ARSENAL JR TOP CLEAN® 6-CS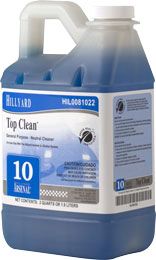 ARSENAL JR TOP CLEAN® 6-CS
Top Clean®
A fast acting synthetic cleaner that removes the soil and leaves the shine. It is specially formulated for metal cross-linked finishes as it preserves the high gloss appearance without leaving a dulling buildup. Top Clean has a neutral pH formula designed to attack dirt without harming your floor or your floor finish.
Super concentrated for economical cost-in-use.

Neutral pH won't harm floor finish.

Low foam formula.

6 - 1/2 Gallon Containers Arsenal Jr. Refill 18.75