Quick & Clean® Brass & More Wipes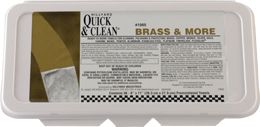 Quick & Clean® Brass & More Wipes
Quick & Clean® Brass & More Wipes
Ready-to-work towels deliver a fast and effective way to clean, polish, and protect brass, copper, bronze, silver, gold, chrome, nickel, pewter, aluminum, stainless steel, platinum, fiberglass, and Plexiglas®. Low- ammonia polishing formula with no harsh abrasives.
Fast and easy way to remove tarnish and oxidation.

Non-scratching, abrasive cloth.

Premoistened and premeasured.

6 - 36 Wipe Containers